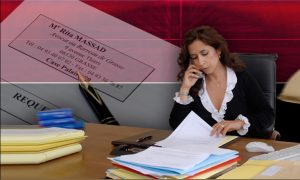 Born in Beirut in 1969, Maître MASSAD attended university at the Nice – Sophia Antipolis Law Faculty, where she graduated with a Diploma in Extended Studies in Private Company Law.
She took the oath as a French lawyer at the Court of Appeal of Aix-en-Provence in January 1997 and has been registered at the Grasse Bar since then.
After having acquired solid experience as an attorney in two large law firms, she established her own practice with the aim of delivering a personalised and bespoke service to her clients.
She works closely with a team of competent professionals (a bailiff, notary, interpreter, private detective etc) and has access to efficient research and documentation tools.
Having lived in various Middle Eastern countries and spent extensive time in the United Kingdom, Maître MASSAD speaks English and Arabic fluently.
While working with you or your organisation Maître MASSAD will endeavour to :
LISTEN : Maître MASSAD will receive you personally, within the shortest time possible, in order to become familiar with your case.
ADVISE : Prompt legal advice and counsel as to the merits and pitfalls of your case and careful analysis before the drafting of any document or the institution of proceedings, to enable you to anticipate all situations, and be prepared for all eventualities.
PREPARE A HIGH QUALITY DEFENCE : If you wish to institute proceedings, or if you are summoned before a Court of Law, Maître MASSAD will assist you with commitment , perseverance and objectivity.
TRANSPARENCY : From the first consultation, Maître MASSAD will inform you about her services and the expected costs involved.